Patricia Quiroga Yañez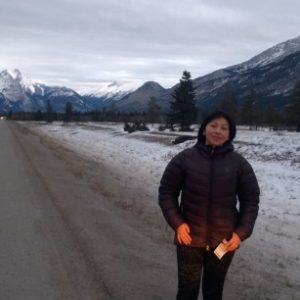 A New Management Framework Based on the Concept of Biosphere Developed by Vernadsky in the Isiboro Secure National Park and Indigenous Territory (TIPNIS), Bolivia
Patricia's research is focused on a different view from management models based on sustainable development given importance to Indigenous Peoples participation for planning Protected Areas and the inclusion of their own view of nature that differs from western view and generally does not accept its rationale. She is studying Vernadsky's concepts of 'biosphere' which could best give credit to the Indigenous view. The objective of this research is to follow that concept to integrate the Indigenous view in a new management framework. Patricia's study will be held in the TIPNIS, sanctuary of biodiversity and native culture threatened by activities for economic development. She loves teaching and volunteers in humanitarian and rescue animal's activities with elderly, adults, young and children's groups in literacy stuff and developing their potentials such as music, dancing, paint, gardening and so on.
---
Lori Schroeder
Rare Species in Relict Grasslands: Plant diversity responses to a reintroduced Wood
Lori Schroeder is studying the impact of reintroduced Wood Bison on native grassland plant diversity in southwest Yukon. Since reintroduction in the late 1980s, the Aishihik Wood Bison herd increased from 34 to more than 1,100 animals, prompting concerns that bison may compete with other ungulates in the area, and alter pocket grasslands within the boreal forest that contain rare, endemic plant species. Her study will inform ongoing management decisions and land use planning processes within the herd range and provide important information on understudied and rare plant communities believed to be analogous to Beringian Steppe communities.
---
Alberto Suarez-Esteban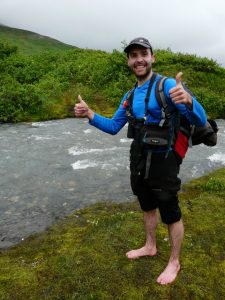 Alberto is passionate about biodiversity conservation. Over the last 7 years, he has been studying the impacts of different human activities on plants, birds and carnivores. He is also involved in landscape conservation planning, and is very keen on science communication, including teaching. If you want to know more about Alberto, please visit his website: https://sites.google.com/site/asuarezesteban/home
---
Yannick Neveux
Yannick is interested in GIS, conservation planning (e.g. watershed and integrated landscape management), the effects of climate and land-use policies, ecosystems/communities' health and services.His current research is on the cumulative impacts of climate change and human activities on wildlife management using downscaled climate projections and envelope modeling of vegetation and populations. Identifying potential climate/roads refugia that met minimum intactness, connectivity, and size for self-sustenance to future natural disturbances can then inform land-use planning and design of reserve or wildlife corridor where disturbances, hydrological regimes, and nutrient cycles still have large impacts.
---
Piia Kukka
 
 
Mike Tribes
 
 
Isobel Ness
 
 
Devon Yacura
 
 
Jared Gonet
 
 
Steven Matsuoka