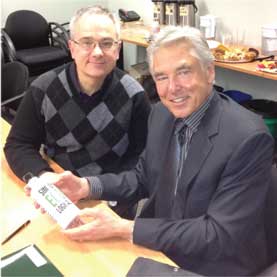 Prof. William Shotyk (left), Bocock Chair of Agriculture and the Environment, with Peter Brabeck-Letmathe (right), Chairman of the Nestlé Group, with an Elmvale Water Festival SIGG bottle. Shotyk, who is also President of the Elmvale Foundation, a federally registered charity for environmental education, donated the reusable bottle to Mr. Brabeck-Letmathe during an information exchange with members of the Faculty of Agriculture, Life, and Environmental Sciences. Shotyk provided Mr. Brabeck-Letmathe with a fact sheet about the variable chemical composition of bottled waters from around the world, and the problems of leaching of metals such as antimony and lead from the plastic and glass bottles, respectively.
Mr. Brabeck-Letmathe was invited to the University of Alberta to receive an honorary doctorate. During his acceptance speech, Mr. Brabeck-Letmathe reminded us that the environment around us is being "violated". He argued convincingly that there are sufficient global freshwater resources for us all, provided that we address the urgent and growing issues of water conservation and management.
In keeping with the conservation theme, there is a simple way we can all help reduce our carbon footprint, improve air quality, reduce the amount of waste going to landfills and preserve our freshwater resources: to avoid using bottled water. Instead, we should be refreshing ourselves by using tap water which we can conveniently carry anywhere we go, using refillable water bottles such as the one shown here.