2018
2017
2016
Atmospheric lead deposition near oilsands in decline since 1970s … Findings counter belief that oilsands are polluting region with atmospheric lead.
This new study has been published in Geophysical Research Letters
Research claiming declining levels of atmospheric lead near oilsands in dispute.
Credit: Jason Franson, The Canadian Press.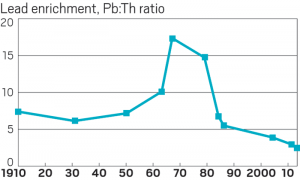 Back to baseline: Enrichment of lead relative to thorium, an indicator of general mineral abundance, peaked around 1970 and now approaches preindustrial levels in a Canadian peat bog. Credit: Geophys. Res. Lett.
Chemical Engineering News: Lead Pollution approaches natural background levels.
Tap Water Is Clearly Better Than Bottled Water—Here's Why, August 15, 2016
2014
2012
2011
2009
2008
2007
2006
2005
2004